Today's review is a super adorable Cat in the Hat costume from our friends over at Costume SuperCenter. We received the Dr Suess Costume to review for Baby K and she LOVES it. The costume is a simple and comfortably designed, full-body cat suit that comes complete with over-sized red bow tie and two-foot tall red and white striped top hat.
(Picture from website)

Our family is full of goofy people who love to have fun! I asked convinced all the guys to go ahead and try out the costume while Baby K was napping. Here is the result, how adorable are they!!!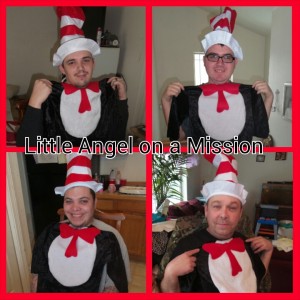 Baby K loves to dress up and she has a few different costumes to play with, she was super excited to open the package up.

I love this SUPER CHEESY grin that she has developed. The costume we received is a tad big on her but she is really tiny, so most clothes is a little big on her, we did order her size which is 2T and the costume fits, 2T-4T so another reason why it was a little big. Either way a couple of pins and she has a Halloween costume all prepared for this year! We usually get her costumes online a few months ahead of time to make sure it fits or we can exchange it.
I am in love with this costume, I can't get over how cute she looks in it. This costume runs in many different sizes, from little ones all the way to those mommies and daddies who love to match their kiddos! I highly recommend to all parents!